Press Release : Consulate organizes Know India Tourism Seminar at Guangzhou on 28 February, 2018
Posted on : 27-03-2018 | Back | Print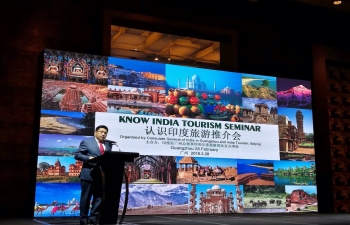 Consulate General of India
Guangzhou
Press Release
Consulate organizes 'Know India Tourism Seminar' in Guangzhou
Consulate General of India in Guangzhou organized "Know India Tourism" seminar in Guangzhou on Wednesday, February 28, 2018 to coincide with India's participation at the Guangzhou International Travel Fair 2018 (GITF 2018). India Tourism, Beijing will set up an 'Incredible India' pavilion.
The event was one among a series of events organized as part of the continued efforts of Consulate General of India in Guangzhou to create awareness and publicize India tourism in China. Consulate has proactively participated in all the major tourism promotion fairs held under this consulate's jurisdiction and held Tourism seminars in Guangzhou, Xiamen, Sanya and Kunming besides being very active on Chinese social media platform.
Know India Tourism seminar 2018 was attended by Mr. Mei Qijie, Deputy Director General Guangdong Tourism Administration, Ms. Liu Yumei, Director General Guangzhou Tourism Bureau and other senior officials from tourism departments. The seminar was also attended by representatives of around 180 travel/tour agencies from all over China as well as Indian Tour/travel agents participating in Guangzhou International Travel Fair 2018, representatives from airlines such as China Southern, Jet Airways, and Cathay Pacific, leading media organizations and business houses.
Consulate General of India in Guangzhou, Mr. Y.K. Sailas Thangal, in his opening remarks gave an overview of India's rich heritage, history, culture and civilization. He informed them of India's magnificent architectural heritage, beaches, tropical islands, fauna & flora, hill stations, back water, temples and an array of UNESCO World Heritage Sites. Consul General also informed them about India's strengths in luxury and hospitality sector, medical & wellness tourism as well as the spiritual tourism including that of Buddhist circuits. He urged the tour operators to prepare packages which enable Chinese travelers to experience India's rich and diverse cultural heritage.
Mr. Mei Qijie, Deputy Director General of Guangdong Tourism Administration and also the Chief Guest for the Seminar, in his speech dwelled on the need for greater tourist flow between the two countries highlighting Guangdong's own touristic destinations. Ms. Liu Yumei in her address to the gathering requested tour operators to work towards increasing tourist flow of both sides pointing out that there is a large potential for tourism cooperation. Guangzhou being one of the most important cosmopolitan cities in China has many touristic places and Indian visitors are welcome to visit Guangzhou. She also highlighted sister city relationship with Ahmedabad.
Mr. Tarun Kumar, Consul (Visa & Tourism) then gave a detailed presentation on touristic destinations in India covering the regions of J&K, Delhi, Rajasthan, North East, Mumbai, Kerala etc, Buddhist circuit, health and wellness tourism, culture, sector-wise opportunities available in India's booming tourism market, information on simplified visa procedures including eVisa scheme, B2B meetings and raffle draw of 4 return ticket to India sponsored by China Southern and Jet Airways. Consul General also presented awards to 10 tour operators for promoting India Tourism in China.
China is currently world's top tourism source market for international tourism industry. The Consulate General of India in Guangzhou recognizing the huge potential for attracting Chinese tourist to India has been very active on all front in promoting India-China tourism cooperation and India as the tourism destination.
Guangzhou
28 February 2018
Go to Top | Back | Print